Call our cruise experts today on

0844 417 4917

Open Mon-Fri 9am - 9pm, Sat 9am - 7pm, Sun 10am - 6pm

Sign up to receive
our latest promotions
Why Book With Virgin Holidays Cruises?
Your safety is our priority
100% ATOL protected
24 hour overseas support
Exclusive packages & Itineraries
Experienced cruise experts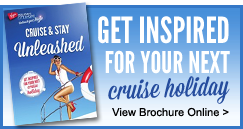 Cruise With Confidence
Your booking is safe with Virgin Holidays Cruises

Australia Cruise Deals


There's nothing like taking a holiday in Australia. Across the country you'll enjoy a warm welcome from the friendly locals, meet our weird and wonderful wildlife and get to experience our laid-back lifestyle.
17 Night Asia & Australia Cruise
Private Resort Transfers Included!
19 nights / 18th November 2013
Private Resort Transfers Included!
Celebrity Cruises
Celebrity Millennium

from £1916.48pp
View Details
13 Night New Zealand Cruise
Virgin Atlantic Flights!
Resort Transfers Included
Hotel Stay Included
18 nights / 15th March 2014
Virgin Atlantic Flights!
Resort Transfers Included
Hotel Stay Included
Royal Caribbean International
Radiance of the Seas

from £2950.60pp
View Details
12 Night South Pacific Fiji Cruise
Virgin Atlantic Flights!
Resort Transfers Included
Hotel Stay Included
17 nights / 2nd March 2014
Virgin Atlantic Flights!
Resort Transfers Included
Hotel Stay Included
Royal Caribbean International
Rhapsody of the Seas

from £2599.00pp
View Details