The volcanic landscape of Iceland is one of the most exotic on earth, with both glaciers and volcanic lakes creating a dichotomy of vistas that must be seen to be appreciated.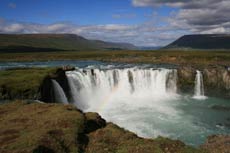 The crystal clear waters off Iceland represents one of the richest marine habitats in the world, with whales and all manner of aquatic life providing some wonderful opportunities for wildlife watching.
Located just 100km from the Arctic Circle, Akureyri is one of the stops on a cruise of Iceland, famous for having some of the best summer weather in all of Iceland. The town boasts the most northerly 18-hole golf course and botanical gardens in the world, as well as some interesting museums and shopping opportunities.
Passengers can also take day trips to the magnificent Godafoss (Waterfall of the Gods), Lake Myvatn, and Dimmuborgir (Dark Castles), where vast lava formations define the landscape.
Isafjordur, meanwhile, offers a range of facilities that belies the town's small size. With superb outdoor facilities, such as ski slopes for people of all skill levels, several hiking routes, a golf area and campgrounds, Isafjordur manages to keep guests entertained.
However, Reykjavik is almost universally the highlight of a trip to Iceland. Its proximity to nature means that it too has a vast selection of outdoor activities to take advantage of, while the city itself is remarkably clean and friendly, with a peculiarly vibrant atmosphere that makes it a pleasure to explore.
And with the chance to hike to the top of Mt Esja, snorkeling where the continental flakes meet, kayak on the Thingvellir lake and rock climb in Hvalfjorour fjord, a cruise of Iceland truly has something for everyone.