The Red Sea is known the world round for its clear blue waters, pristine beaches and abundance of underwater life. Bookmark and Share
Why is the Red Sea called 'Red'?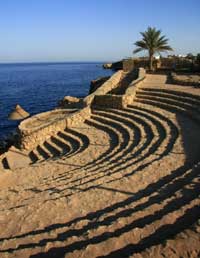 Some believe it was named after the majestic red mountain ranges lining its shores. Or is it from the strange phenomena that occurs every few years when rare floating algae give it a reddish-brown tinge?
The Red Sea is the habitat of over 1000 invertebrate species and 200 soft and hard corals, of the many vertebrate species there are over 300 types of sharks. It is the second saltiest body of water in the world-second only to the Dead Sea which lies between Israel and Jordan.
The Red Sea's most northerly point forms the Sinai Peninsula and stretches over a thousand miles south to join the Indian Ocean, between Djibouti and Yemen. It is roughly 1900 km long and 300 km across at its widest point. The Red Sea has long been used as a highway between East and West facilitating trade between many countries. Bordering countries on the African continent include Djibouti, Egypt, Eritrea and Sudan. On the Asian continent, Israel, Jordan, Saudi Arabia and Yemen border its shores.
From the resort towns of El Gouna, Eliat and Hurghada to the spectacular diving at Dahab and Sharm el Sheikh, the Red Sea offers something for every traveler. Explore the almost untouched dive sites of Marsa Alam & Lahami Bay in the Southern Red Sea, snorkel your way through pristine waters off the shore of Makadi Bay, or embark on a liveaboard diving safari off the pristine waters of the Red Sea coast.
For those who like to venture off the beaten track, head to Sudan where the coast is riddled with reefs or to Saudi Arabia where much of the Red Sea coastline is now open to scuba diving. Jordan is one of the most welcoming, hospitable countries in the world and Aqaba, located in the far South, boasts some of the best diving.