Azamara Club Cruises is a deluxe cruise experience for discerning travellers who long to reach out-of-the-ordinary destinations and indulge in amenities and service unparalleled on the high seas.
The unique offerings of Azamara Club Cruises are beyond compare: complimentary 24 hour room service is provided in every stateroom; shore excursions are designed to let guests become part of the fabric of life in each destination, instead of merely being an observer; the enrichment programs offer everything from culinary to photographic explorations; two specialty restaurants provide the finest cuisine at sea; live entertainment can be enjoyed nightly; and the level of service offered is unmatched.
Azamara Club Cruises consist of three intimate ships, Azamara Journey, Azamara Quest and Azamara Pursuit, which entered the fleet in August 2018. Each can carry 702 fortunate guests and because they are smaller and sleeker than larger cruise ships, they can sail to ports that others simply cannot reach.
In addition to offering a more personalised experience, the ships have recently undergone a $17.5 million revitalisation with new European bedding and soft furnishings, flat screen televisions, new verandah decking and furniture, and wireless internet service in all staterooms and public areas. Plus, 93% of the staterooms offer ocean views and 68% have a private veranda.
You may be wondering where the name Azamara comes from. Azamara is a coined term derived from the Romance languages. This includes the more obvious links to blue (az) and the sea (mar). The name was also inspired by a star, Acamar. In Classical times, the star Acamar was the most southerly bright star that could be seen from the latitude of Greece. Azamara Club Cruises can be seen as a star on the blue sea.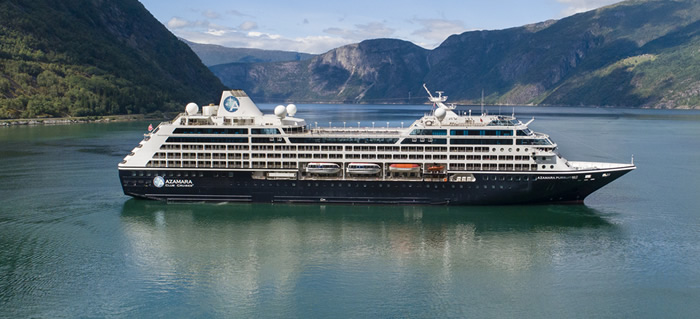 Authentic Service
Experience the world's wonders from your Azamara hotel at sea. After a day or night spent immersed in your destinations, you'll have a club-like ship to come back to.

So much more than just a way to get from port to port, we've crafted an onboard experience akin to a stay in the world's most exclusive hotels. Our ships—Azamara Journey®, Azamara Quest®, and soon Azamara PursuitSM—have been completely redesigned to exude modern elegance and bring inspiration from the world onboard.

Comfortable and never crowded, you'll love the feeling of community emphasized by our attentive and genuinely friendly staff. With a host of unmatched inclusive amenities, the only finger you'll have to lift will be to make a menu selection.


Immersive Cultures
Azamara is excited to introduce the next level of immersive experiential travel.

This new collection of excursions and activities will take you deeper into the heart of local life with exclusive events and activities, all focused around immersing you in the arts, culture, history, and natural beauty of your destinations.

Make mozzarella by hand with the Italian pros. Play the world's finest courses. Enjoy an overnight desert experience or savor a feast for the senses at local markets with one of our chefs. These land programs bring you authentic experiences which enable you explore, dine and live like a local.
Unparalleled Destinations
By spending more time in ports and on overnight stays than most other cruise lines, you can fully immerse yourself in the culture, cuisine and people of your destinations.

We also take you to ports where larger ships won't fit, such as the heart of Venice, Amalfi, and Crete, or even to the doorstep of Bangkok (while other large cruise lines dock a few hours away). More time to explore? It's the Azamara difference.