Carnival is "The World's Most Popular Cruise Line®", with 26 ships operating three to 18 day voyages to The Bahamas, Caribbean, Mexican Riviera, Alaska, Hawaii, Canada, New England, Europe, Bermuda, South America, Panama Canal, and Tahiti and Fiji Islands. Carnival Cruise Line offers a wide array of quality cruises, and pride ourselves on delivering memorable vacations to the guests. A Carnival cruise offers not only outstanding value for the money, but most importantly, fun! A "Fun Ship" cruise features day and nighttime entertainment like stage shows, musical performances, casinos and more. Carnival Cruise Line makes the guests feel right at home, too — think comfy stateroom accommodations, attentive service, delicious food and drink — and they enjoy the experience against the backdrop of some of the world's most beautiful ports.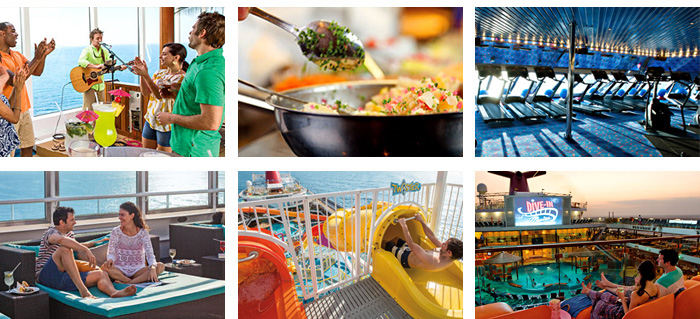 Carnival Spa
It's never been so easy to relax. Get your workout in and spend the day soaking in the jacuzzi, lounging on the sun-drenched deck or swimming in the crystal-clear pool. The options are endless, so spend the day doing what you want.

Stay in shape with Spa Carnival's state-of-the-art exercise equipment, jogging track and aerobics classes. Each ship's spa features a staff of knowledgeable fitness experts ready to assist you.

Feel the stress sail away as you pamper your body and mind. Relax and revive with a trip to our steam room and sauna. For the ultimate in relaxation, soothe your tired and aching muscles with a full-body massage.

Look and feel your best as stroll around the ship and ports. Spa Carnival features a variety of beauty treatments for both men and women including: facials, loofah treatments, manicures, pedicures and hairstyling.


Carnival Cruise Line Guests
Every year we sail millions of guests who love the joy of cruising and the beauty and calm of the sea. The ocean is a cherished resource that we must all respect and one we are committed to preserving, protecting and promoting for future generations to enjoy.
Sustainability and environmental responsibility are issues more and more companies are addressing. Along with our sister brands that operate under the Carnival Corporation umbrella, we are making a concerted effort to enhance our sustainability practices so we can achieve our goal of being the environmental leaders you expect us to be. In this effort, we have invested hundreds of millions of dollars in new technology, equipment and training to propel our environmental stewardship forward. We have made tremendous progress in reducing emissions, fuel consumption, water and energy usage, and many other metrics by which we measure our improvements.
As leaders in the cruise industry, we are committed to doing more, being ever vigilant, and moving faster with our plans. Over the next few months, you may notice changes to some of our product offerings as we move to reduce single use plastics and eliminate certain other items that are difficult to recycle or separate from food waste. It's important for you to know that these changes are focused on our being better environmental stewards – not cutting costs – as many of these changes actually increase our cost and the manpower required to execute them.
Some of these changes are underway, but many more will be coming by the end of this year, including:
Eliminating most individual servings of packaged items like foil-wrapped butter pats, condiments, salad dressing, cereal boxes and sugar (but excluding artificial sweeteners);
Eliminating various decorative items used in food/beverage service, such as steak temperature markers, toothpicks, umbrellas, stir sticks and olive picks;
Eliminating the distribution of all drinking straws, with the exception of frozen drinks, which will be served with an edible straw; wooden coffee stirrers will be replaced with stainless stirrers which can be sanitized and reused;
All beverages will be served in glass or reusable plastic tumblers; all to-go hot beverages will be served in paper cups with paper lids;
Shampoo and body wash will be distributed in pumps in all staterooms, suites and spa facilities;
Plastic water bottles are currently recycled, but we are exploring various alternatives that could replace plastic water bottles in the future.
We are committed to doing our part to implement best practices and new technologies to reduce our environmental footprint. And, along with the support of our terrific crew and guests working together, we will do our part to protect the oceans we enjoy and the air that we breathe. We ask that you embrace these changes in the spirit in which they are being made and understand how these changes may limit how our team responds to certain requests. The one thing we are not changing is our commitment to providing you with a memorable and fun vacation. And together, with your support, we will continue our progress as outstanding environmental stewards.
Children's Activities
Toddlers can enjoy "Fun Ship" Bingo, Cartoon Time, Sponge Painting, Sing-Alongs, Face Painting, Arts & Crafts, Playtime, Colouring, Painting, and Drawing Contests.

Junior cruisers can enjoy Cookie Decorating, T-Shirt Painting, Puppet Shows, Outdoor Games, Disney Trivia, and more.

Kids aged 9 through to 11 can enjoy Ping Pong, Video Games, Dance Classes, Scavenger Hunts, and Talent Shows.

Teens can enjoy Parties, Games, Tournaments, Disco Parties, Swimming, Outdoor Fun, Computers, PlayStation2, Teen Dinners, Late Night Movies & Munchies, Teen Shore Excursion Program.

Carnival's Club O2 is perfect for older teens with parties, hip music, great movies, video games (PS2 and Xbox), teen shore excursions, teens-only lounges and other great ways to hang out.


Day Time Activities
When you have the entire day to do anything you want or nothing at all, you know you are on a Carnival cruise. Relaxing has never been so easy to do. Soak in the Jacuzzi surrounded by panoramic ocean views. Lounge on the sun-drenched Lido deck with your favourite tropical drink. Unwind with a calm tropical breeze blowing across the deck. The options are endless, so spend the day doing what you want.

Tropical paradise awaits you at your next destination. Carnival offers informative lectures on ports of call, shopping, and shore excursions, enhancing the experience of exploring new island pleasures. Days are filled with your kind of fun. Do it all or nothing at all; it's your choice.
Dining
In the dining room, we feature a variety of international themes, including French, Italian and Asian nights. Sample your choice of enticing appetizers, hot and cold soups, fresh garden salads and such entrees as Lobster & Grilled Black Tiger Shrimp. Then let your waiter tempt you with Fruit Tranche, Baked Alaska, Chocolate Mousse or another irresistible dessert. If you are watching calories, the selections from our low-fat, low-calorie Nautica Spa™ menu are absolutely delicious. So satisfy your every craving!

You always have a reserved table in our elegant dining room. Or, you may choose casual dining in the bistro on the Lido Deck. The meals are superb, the desserts are spectacular and the service is bistro style. Our waiters are always happy to provide whatever service you may need.
Entertainment
Every "Fun Ship" in the Carnival fleet is unique. However, a virtually endless supply of entertainment options is something you are guaranteed to find on each and every one of our floating resorts.

Experience the music, dancing, lights and costumes that make these spectacular stage shows nothing less than extravaganzas. Every effort has been made and no expense has been spared to ensure every night feels like opening night.

Raise your glasses and make a toast to old friends and the new ones you are making every day. You are sure to find the perfect watering hole to kick back and watch the game, smoke a cigar or sing along at the piano bar. When you are ready, move the party to one of our nightclubs and dance late into the night.

Catch a rising star as a wide variety of singers, comedians, bands and musicians perform nightly out on deck or in one of the many clubs and lounges. Whether it's calypso, country or rock, we have got you covered.

Our casinos feature all of the popular games you would find at any fine casino. Who knows? You may win enough to pay for your cruise. Try your hand at: slot machines, blackjack, roulette and poker. Mega Cash, is the world's largest cruise ship jackpot. One lucky guest even won $1,065,428.00! You could be next. Ocean Player's Club membership is free and all you have to do is play your favourite game aboard any Carnival "Fun Ship." You could qualify for special VIP privileges, promotions, specials and cash-back rewards.
Fun Ships
Every one of Carnival's "Fun Ships"® is a unique floating resort designed with your fun in mind. Venture out of your spacious stateroom and experience the outdoor areas, wonderful restaurants, friendly casino, relaxing lounges, invigorating spa, exciting nightclubs and duty-free shopping. Come aboard and see for yourself.

Being all over the map can be a great thing. We should know. Our "Fun Ships" cruise to well over 60 destinations including: The Bahamas, Caribbean, Mexico, Hawaii, Alaska and even Europe. You will sail away on one of our floating resorts, each an amazing destination itself.
Smoking Policy
Stateroom Smoking Policy:
Effective December 1, 2011 (or the first cruise immediately following December 1st), smoking will no longer be permitted in any staterooms aboard Carnival vessels. This change was announced to the public on June 15th, 2011. The long notice period will give any of our guests who wish to cancel (due to the change in policy), the ability to cancel without incurring a cancellation penalty. Smoking will only be permitted on the balcony of the balcony staterooms; however, smoking will not be permitted on the balconies of the spa staterooms.

Public Area Smoking Policy:
The Housekeeping Teams on board will begin a process of deep cleaning, carpet and upholstery change out where needed and installation of new extraction. That process will be completed by December 1, 2011; however, the changes as listed below would become effective immediately as of June 15th, 2011 (or the first cruise immediately following June 15th). In addition, we will be changing the name of those cigar bars that were smoking and will now be non smoking and have either "Cigar Bar" in their name or the name is identified with cigars. Specific information by ship will be shared shortly.
Spacious Staterooms
Carnival Comfort Collection - Whether your idea of a vacation is relaxing, exhilarating or somewhere in between; everyone wants a soft spot to rest their head at night. And, you won't find a better bed than those offered in every stateroom on every Carnival ship.

The Carnival Comfort Collection features a superb mattress, high-thread-count linens and duvet, custom pillows, fine cotton towels and terry cloth bathrobes. Guests love them so much; we've made them available for purchase. You're going to love them too.

Enhanced Amenities - We know that your stateroom is your home-away-from-home for the duration of your "Fun Ship" cruise. So, to make your stay as comfortable as possible, each spacious stateroom features soft carpeting, indirect lighting, lots of closet space and individual climate control.

Left an important grooming item at home? No worries, our complimentary basket of toiletries has got you covered.

Pampering Service - Carnival staterooms are comfortable and spacious. Whether you choose Interior or Ocean View, Balcony, Suite or Penthouse Suite, you'll get the same personal attention! From the wonderfully unique towel animals to the nightly mint on your pillow, we strive to provide exceptional service for each one of our guests during their fun-filled cruise.

With such a great space and excellent service no one will be suprised if you choose to stay "behind closed doors" for a day to take advantage of the 24-hour room service availabe to supply all your hunger needs.