This week Celebrity Edge had its Culinary reveal in New York
For the first time we are able to now talk about what lies in store for those guests on board this breathtaking ship....
Set sail on a culinary journey. Revolutionary Celebrity Edge presents the authentic aromas, flavors, and textures of diverse destinations from Caribbean to Mediterranean. Guests will experience local ingredients through the creative inspiration of our Michelin-starred chef.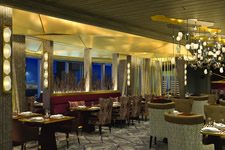 Celebrity Edge reimagines onboard dining. To keep guests excited, they have created FOUR complimentary main restaurants: Cyprus Restaurant, Normandie Restaurant, Cosmopolitan Restaurant, and Tuscan Restaurant. Each highlights a different global influence, both in cuisine and ambience. Plus, all offer more intimate experiences, because they're smaller in scale, yet offer more seating per guest than any other ship in our fleet.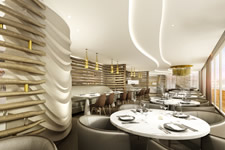 Celebrity Select Dining, which allows guests to dine when and where they like, has expanded into Celebrity Select Dining Plus. The "Plus" is for the four main restaurants, where guests can make reservations or simply show up. You can also choose traditional early or late seating, allowing you to have the same waiter, and then retain the option to request another of the main restaurants. The total of 29 restaurants, cafés, and bars on board include specialty venues like Fine Cut Steakhouse, an upscale experience; Le Grand Bistro, a classic patisserie; and Dinner on the Edge, a culinary ride on the Magic Carpet.