Welcome to a wonderful new world of luxury and adventure
The big blue sea, reloaded. Cruise holidays are trending and it's easy to see why – they're modern, magical and most definitely good for the soul. They're a bit like all the best bits you've ever had from past holidays rolled into one extra-special experience. From climbing walls, bowling alleys, ice rinks, fitness centres, unique onboard entertainment, award-winning spas and culinary delights, there's something for everyone.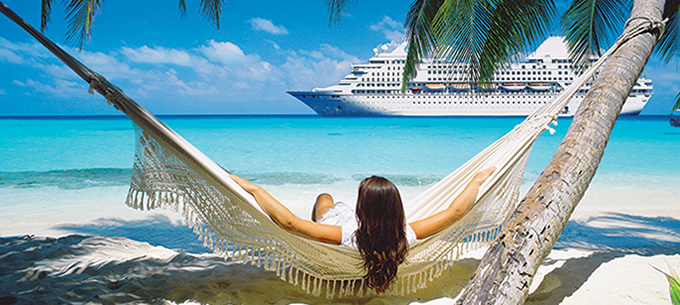 Where in the world
Cruising is a global phenomenon – every destination is up for grabs. For the far north, there's Alaska, Norway, Iceland and the Baltic. For hotter climes, how about Dubai, the Emirates and the Red Sea? Tropical islands, try the Caribbean, the Canaries and Hawaii, and for truly exotic destinations the Far East and Indian Ocean. Closer to home are the brilliant British Isles, Europe and Mediterranean. Or on the other side of the world, Australia, New Zealand and South Pacific. Then for more adventure try Canada, the USA's East and West Coasts, Florida, the Panama Canal, Mexico and Brazil. Not forgetting the Amazon...
"Virgin Holidays Cruises is all about providing ultimate luxury at affordable prices"
Float your boat
Cruise ships range from smaller, more intimate or unique vessels to the big, beautiful cruise lines that are packed with onboard facilities, attractions and entertainment. Ideal for families are the larger or mid-size ships with their kids clubs giving parents the chance to chill.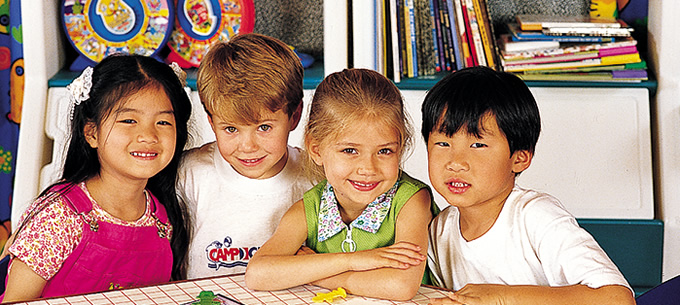 Keep your cool
Our holidaymakers can dress to impress if they wish – and there are ample opportunities to glam it up – but mostly they wear what they're comfortable in. We like to keep things casual so you can relax in complete comfort.
Adventure unleashed
Imagine waking up to a different destination almost every day on your holiday. You can when you cruise, and the opportunity is there to hop ashore and make the most of a vibrant city, secluded beach, unique culture or exotic wonder. With Virgin Holidays Cruises you can also combine a cruise with a stay – taking your time to thoroughly explore new places by adding on a few nights before or after your holiday, be it on a serene Caribbean beach, lively US city or alluring port of call in the Far East. Our cruise and stay experts will customise the holiday according to your exact wishes, so you really can have it all.
Foodie heaven
You'll be smitten by the sheer variety of cuisine onboard – from chic restaurants to fusion dining, tapas bars to pizzerias, ice-cream parlours to gourmet a la carte venues. There are informal buffets for those who like to mix and match, plus healthy options and favourite meals for kids. And don't forget there's room service too.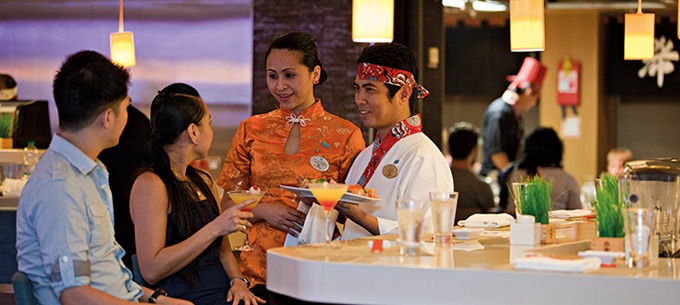 Just the two of us
Three's a crowd, right? Our cruise partners know just what ticks all the important boxes for adults and especially couples. Among your exclusive facilities: a dip in a relaxing pool or hot tub; the chance to let your hair down and enjoy cabaret or clubbing; and a romantic dinner with award-winning cuisine. Let your mojo run wild.
Pennies from heaven
Virgin Holidays Cruise are all about providing ultimate luxury at affordable prices – check out our extremely reasonable prices per night. Included in the cruise are your flights and transfers and pretty much everything onboard, from accommodation, entertainment, all meals and dining in a choice of venues (speciality restaurants are additional costs). The additional costs vary by cruise line but generally daily gratuities and alcoholic drinks are extra.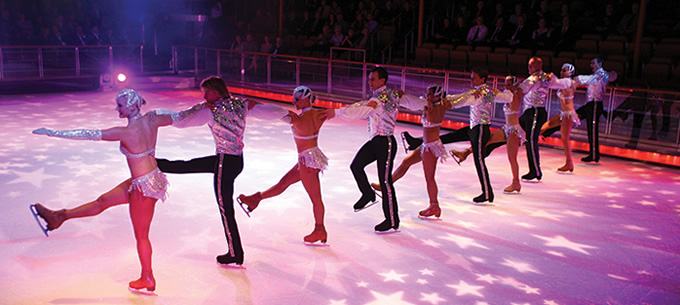 We'll look after you
Sea-sickness needn't be an issue. Most modern ships have stabilisers to limit the motion, and it's worth bearing in mind that larger ships and central cabins are an option for those particularly concerned about the condition. Either way, there are always medical staff onboard to help.
The gadget show
Today's cruise liners have decent mobile phone coverage as well as Wi-Fi and internet access to make it easier for holidaymakers to call home (charges and availability vary so check before setting off). Many also have their own apps with info about your ship and activities onboard. Two of our faves are Deck Director, for Carnival Cruise Lines and Princess Cruises, and Meet on Cruise, which enables you to hook up with new holiday friends.
Drift in bliss
Your cruise experience is sprinkled with Magic Touches* such as priority check-in, champagne reception, cabin upgrade and speciality fine dining. We've also redefined VIP with our Platinum Collection cruises – with almost as many staff as passengers. *Available on selected cruise ships.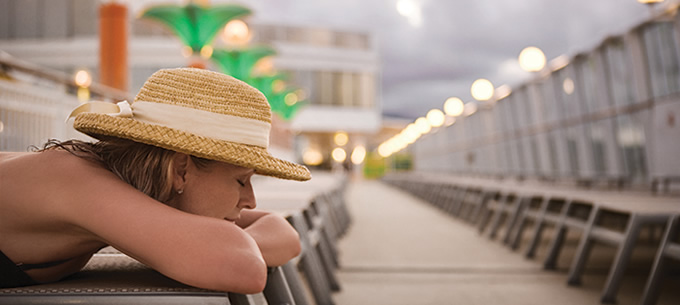 Any other questions?
Don't know your Aft from your Stern? Learn the lingo with our Jargon Buster
Also, check out our Cruise Guide
If there's anything you need to ask us after you've booked your cruise holiday, get in touch with our expert customer services team on 0844 557 9734.