Escape the every day, everyday with Cunard
Cunard is where guests can escape to an uncrowded world with the space and time to do as little or as much as they like. For over a century and a half, the iconic ships of Cunard have been defining sophisticated ocean travel. They have always been The Most Famous Ocean Liners in the World. From fabled vessels of the past to her present royal court — Queen Mary 2, Queen Victoria and Queen Elizabeth — Cunard has carried guests across the great oceans and to the far points of the globe in unparalleled style. The most glamorous names of yesterday and today have made champagne toasts in her salons, waltzed the night away in her grand ballrooms, savoured grand feasts of the finest flavours in her dining rooms, and whiled away hours immersed in fascinating conversation on her decks. Cunard invites you to take your place in the rich heritage of ocean travel, and write your own classic adventure tale. Join Cunard for a journey on the legendary luxury ocean liner.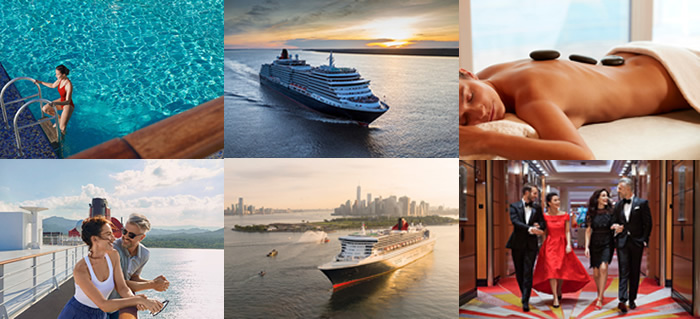 Cunard Experience
Where does the Cunard experience begin? With the famous White Star Service, of course from the moment you step on board, the constant priority is to make you feel welcome. In fact, matching your expectations instinctively is what Cunard do best. British officers uphold the highest standards.

As you arrive at your embarkation terminal, savour the delicious thrill of anticipation.
Along the quay and then on deck, excitement builds. After being shown to your stateroom, take a stroll to acquaint yourself with one of the world's most famous liners. Now sound the horn and strike up the band! As the coastline falls away and you dress for your first dinner at sea, relax – your Cunard holiday has just began.

Greet each new morning in the spirit of freedom. Will you venture ashore, or broaden your inner horizon right here? From wine to gardening, theatre shows to dance lessons, there is a lively talk to fire every imagination. Chill out – the kids are being happily entertained! The most relaxing ambiance is yours to soak up throughout your perfect day.

Cunard Heritage
The Industrial Revolution had progressed far enough by the 1830's to make the idea of transatlantic communication by means of a fleet of steamships plausible. The desire for dependable delivery of the mails on which imperial communication and commerce depended prompted the government of Her Majesty Queen Victoria to invite interested parties to bid for a contract to provide this service. Samuel Cunard of Halifax, Nova Scotia, was the successful contender. His contract to deliver the mail across the Atlantic from Great Britain to North America was signed on May 4, 1839, and originally involved a commitment to provide three steamships of 800 tons and 300 horsepower. Samuel Cunard was a highly successful and enterprising Canadian businessman and one of a group of 12 individuals who directed the affairs of Nova Scotia. Cunard had the reputation for being not only a very astute businessman but also an individual with exceptional diplomatic ability.
In order to successfully carry out his contract, Cunard solicited the assistance of Robert Napier, an engineering genius who was responsible for creating the engines of some of the best new ships of his day. Cunard also needed financial backing and received it from three accomplished businessmen: James Donaldson, George Burns and David Maclver. These five men founded the British and North American Royal Mail Steam Packet Company, later known as "Cunard Line".
Sir Samuel died April 28th, 1865. In 1981, Sir Samuel Cunard was inducted in ASTA's Travel Hall of Fame in honour of his contribution to developing transatlantic travel.

Cunard Signatures
Afternoon tea - Classically British, Afternoon Tea is a tradition that is observed at 3.30pm daily (subject to change). The white-gloved waiters serve the perfect tea in the Queen's Room, with freshly baked scones and cream and exquisitely-cut finger sandwiches.

Gala Ball - Every night on board a Cunard liner is magical. Gala balls are a signature part of the spell, transforming evenings into glamorous events. Dance to our live orchestra in the Queen's Room - the largest ballroom at sea.

Transatlantic crossings - Our liners have sailed full circle from Southampton to New York since we created the first route in 1847. Today, only Queen Mary 2 regularly makes the Transatlantic Crossing - one of travel's most legendary experiences.

Event cruises - Sail with esteemed experts from novelists to astronauts. The award-winning insights program brings topical themes to life with exclusive events, interactive learning and bespoke excursions in select ports of call.

Uncrowded spaces - On board Cunard's three Queens, guests enjoy a harmonious sense of spaciousness. From broad open decks to airy atrium's, you're sure to discover a restful spot as lively activity - somewhere to suit your changing mood.

West-end calibre shows - Evenings on board offer so many pleasures. On each ship, a full-sized theatre is the setting for West End calibre shows. Some nights feature singers or comedians, other times you may see abridged dramas or lively musicals.

Famous For A Reason
Having long ago set the standard, Cunard continue to exceed it. For over a century and a half, the iconic ships of Cunard have been defining sophisticated ocean travel. They have always been The Most Famous Ocean Liners in the World®.

Over 160 years ago, Samuel Cunard set out to deliver mail across the Atlantic, not realising he was taking the first step towards setting a new standard in luxury travel. Since then, Cunard has become a byword for comfort, style, and the ultimate travel experience as defined by successive eras. Today, Cunard continue to celebrate a golden heritage while creating new standards daily. Quintessentially British, they explore the world in all its rich diversity with people of the world – people like you.

Impeccable service defines and differentiates the Cunard experience most eloquently. It always has. From award-winning grill dining to a tasty snack or a chocolate on the pillow, there attention to detail will make you feel special. Put simply, nothing is too much trouble.

In fact, the experience of higher grade staterooms is not unlike belonging to the most privileged club. Let the discreet concierges meet your every need, ship side and ashore, from a quick round of golf to the best seats in the house, from postage stamps to private car hire. Naturally, embarkation and disembarkation are on a priority basis.

Champagne, complimentary bar, fresh flowers and fruit, soft terry robes in your suite – nothing rivals the unashamed luxury of Cunard's famous 'Grills Experience'. Why wait to enjoy the cream of cruising today? Why wait to delight someone special?

Your fare includes transfer between airports, hotels (if applicable) and ship at the overseas port of embarkation/disembarkation.


Smoking Policy
For the safety, comfort and enjoyment of our guests, smoking (including Electronic alternatives) is not permitted in staterooms, on stateroom balconies or in public rooms. You will find designated areas on the open decks, where smoking is permitted. The only exception to this is Churchill's Cigar Lounge, which is reserved for cigar and pipe smokers only. This policy is designed through direct feedback from our guests and is for the safety and comfort of all guests.

All restaurants are non-smoking, and this includes outdoor dining alternatives.

Smoking is not permitted in your stateroom/suite or on your balcony.

Electronic cigarettes

Electronic cigarettes and vaporising devices, including those which do not emit smoke, are permitted in designated smoking areas only.

Travelling to the United Arab Emirates, Please note that the use and possession of electronic cigarettes is illegal in the United Arab Emirates. If you are arriving and/or leaving the country by plane, please be advised that any electronic cigarettes will be confiscated at the airport and you may face a penalty. If you are visiting any UAE ports as part of your cruise, please do not take electronic cigarettes ashore.
The Finest Dining
At Cunard they understand instinctively the contribution made by the finest dining to the ultimate cruise experience. In every culinary context, the famous "White Star Service" sets the tone beautifully. Not only have Cunard gone out of their way to make each restaurant a venue to remember, they have also engaged some of the world's top chefs and experts.

From grill to cafe, Cunard leave nothing to chance in matching an ambiance to your every mood. Naturally, you will find a tempting range of informal settings in which to enjoy a tempting snack. Room service, of course, is at your beck and call, 24 hours a day, at no extra charge.

Would you not love to enjoy the very best of Cunard as epitomised by the celebrated 'Grills Experience'? Besides the most spacious and lavishly appointed suites anywhere at sea, it means the intimate atmosphere of the award-winning Grilling Restaurants and exclusive access to the Queens Grill bars, plus your own private butler service and lift access in higher category suites.



Various Activities
Staying fit and going home looking your radiant best are part and parcel of a Cunard cruise holiday. But hold on a minute - there is no need to get carried away completely on a tide of fresh–air enthusiasm! It is nice to know you can do as much or as little as you choose here on deck! That is the style. You set the pace, today and tomorrow.

From shuffleboard to tennis and jogging, you can warm up gently or work out to your heart's content. Naturally, on deck is an ideal place to relax with the latest blockbuster novel. Anyone for golf this afternoon? Being at sea is no handicap when it comes to exercise. Our outdoor putting and driving ranges allow you to get into the swing of things without getting mud on your shoes.

Whatever your mood, there is something to engage you every hour of each day. Relax while the kids get to grips with our tried and trusted programmes – you know it makes sense! Doing your own thing like this instills a freedom you could get used to.