Indulge in the ultimate laid-back lifestyle
The island of Barbados is famed for its easy-going culture, making it popular worldwide with VIPs just like you. As the ultimate paradise destination, there's nowhere quite like it to make your Mojo purr.
Famed for its palm-tree and white sand-lined coast, there's more to Barbados than sipping coconut cocktails on the beach. The history of the island is as rich as its plant life, with historical buildings and monuments preserved for visitors to explore. There's no end of activities to partake in, so if you're looking for a balance of relaxation with cultural hob-nobbing, you might just have found your perfect match.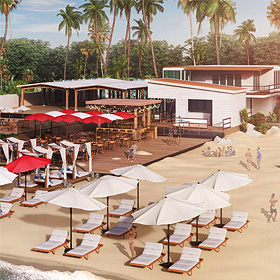 Virgin Holidays Departure Beach - Opening Summer 2018
Until now, hanging around at the airport on departure day has felt like the inevitable price you pay for going on an exotic holiday. But we believe that life should be a beach every day of your holiday – especially your last day.
Introducing our exclusive Departure Beach! Indulge in food, soft drinks, tea and coffee – all included – and top up that tan on or take a dip in the ocean. A super-cool Virgin Holidays lounge, but on a beach? Genius!
Entrance to the Departure Beach is complimentary for Virgin Holidays stay & cruise customers whose itinerary terminates in Barbados.