Indulge in the ultimate laid-back lifestyle
The island of Barbados is famed for its easy-going culture, making it popular worldwide with VIPs just like you. As the ultimate paradise destination, there's nowhere quite like it to make your Mojo purr.
Famed for its palm-tree and white sand-lined coast, there's more to Barbados than sipping coconut cocktails on the beach. The history of the island is as rich as its plant life, with historical buildings and monuments preserved for visitors to explore. There's no end of activities to partake in, so if you're looking for a balance of relaxation with cultural hob-nobbing, you might just have found your perfect match.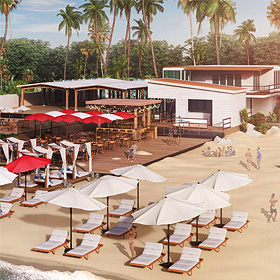 Virgin Holidays Departure Beach
Until now, hanging around at the airport on departure day has felt like the inevitable price you pay for going on an exotic holiday. But we believe that life should be a beach every day of your holiday – especially your last day. Introducing our exclusive Departure Beach! Indulge in food, soft drinks, tea and coffee – all included – and top up that tan on or take a dip in the ocean. A super-cool Virgin Holidays lounge, but on a beach? Genius!
Entrance to the Departure Beach is complimentary for Virgin Holidays stay & cruise customers whose itinerary terminates in Barbados.

What is a Barbados Stay & Cruise like?
There's so much to do in the island of Barbados that a day on the island just isn't enough. But it wouldn't be fair on the other islands for you to spend all of your holiday there. That's why the Stay & Cruise package is ideal.
Once you've finished in Barbados, it's time to hop aboard a Caribbean cruise, which will take you to the other islands in the area. Whilst being transported between each port, enjoy the VIP lifestyle, breathing in the rich sea air, sampling international-standard cuisine and shopping until you drop.
Barbados Stay & Cruise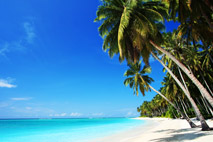 Things to do in Barbados
History plays a huge part in Barbados today, so do yourself a favour and visit some of the local historical attractions there. Barbados Museum and Historical Society offers a look back at the island throughout the ages, and St Nicholas Abbey is something of an awe-inspiring destination.
Of course, the natural beauty of the entire island is second to none, and we don't just mean the beaches. Harrison's Caves are an impressive natural landmark, while the manmade Andromeda Gardens are famous the world-over.
Best time to visit Barbados
The temperatures are high throughout the year, though the weather itself can change quite drastically depending upon the month. One of the most popular periods to visit is December to April, as many visitors spend Christmas in the sun.
While this season might have the hottest weather, the January to April period is usually quite dry and offers a cooling breeze that can serve as a welcome relief from the hot sun. Hurricane season officially runs between June and November, with the worst of the weather experienced between August and October. Barbados typically avoids the direct paths of most storms, but heavy rain is a common occurrence.