Save up to £50 off per person
Terms and conditions
Bookings made between 13 October to 31 October 2019 for all 2019 travel dates will receive up to £50 off per person based on the first two adults per cabin.
Free Disney Dining & Drinks*
Feast your eyes on these delicious offers, the perfect accompaniment for Walt Disney World Resort guests in 2020. For bookings made between 25th April to 5 November 2019 on selected arrival dates, FREE Disney Dining & Drinks is on the menu when you stay at a selected Disney Moderate, Deluxe or Deluxe Villa Resort Hotel, or FREE breakfast at selected Disney Value Resort Hotels. You can also enjoy a range of drinks choices with your meals, including speciality non-alcoholic choices, and beer, wine and cocktails for those 21 and over.


With decks of sun-drenched Disney magic you won't find anywhere else, Disney Cruise Line sets every family member on course for spectacular Disney entertainment and unrivalled relaxation. Sailors of all ages can unwind together as a family or separately in their own dedicated areas. Each is designed exclusively just for adults or kids, offering a vast array of clubs and activities only available on a Disney cruise.
For the Ultimate Disney Experience, combine your stay at Walt Disney World with a Disney Cruise Guests can combine these offers at Walt Disney World Resort in Florida with a Disney Cruise: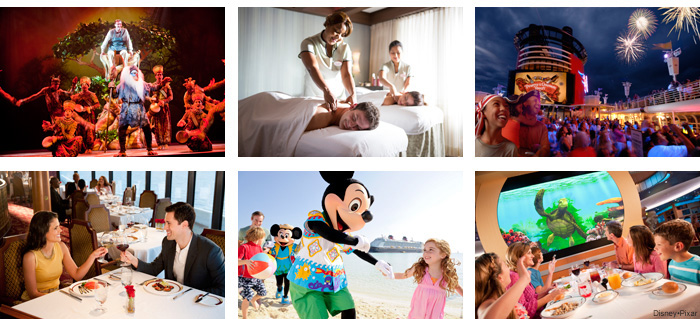 Cruise Itineraries
Set sail on one of the Disney cruise ships and discover spectacular itineraries, magical experiences and breathtaking ports of call. Enchanting destinations are available on a variety of itineraries from 3-, 4- or 5-night cruises to the Bahamas to a 7-night cruise in the eastern or western Caribbean. One port of call is reserved exclusively for Disney cruise line guests on Bahamian and Caribbean cruises, Disney's private tropical retreat Disney Castaway Cay.
Dining
Rotational dining is the Disney Cruise Line way of making sure that all guests get to enjoy each of the 3 themed dining venues while on board. You will receive your restaurant schedule upon boarding. Then, each evening, you, your tablemates and servers will rotate to a different restaurant. As you rotate, the same wait staff — who know your preferences — will serve you each night while you get to experience the unique atmosphere of each restaurant.
Fun for adults
While the kids are having fun, adults can escape to the privacy of adults-only locales and experiences — Unwind at an adult-exclusive pool, offering tranquil solitude, ocean breezes and spectacular views or delight in live music, cabaret shows, sports, dance parties, karaoke and more at venues that cater exclusively to adults when the sun sets. Even when they disembark the ship Adults can surrender to sun-kissed sands and translucent blue water at this adults-only haven on Disney Disney Castaway Cay.
Fun for kids
Children can step into worlds inhabited by some of their favourite characters at this kids' activity centre. Disney's Oceaneer Lab is about learning while having fun. Character-driven performances, special storytelling sessions, larger-than-life playgrounds, dress-up opportunities and cool interactive activities are sure to delight kids aged 3-12 years. Toys and games, an open seating area for arts and crafts, and ongoing Disney movies mean there's never a dull moment.

Fun for tweens and teens
It isn't just about youngsters as Edge provides guests ages 11 to 14 and Vibe provides guests ages 14 to 17 with their own special place where they can break off from the family and connect with other teens. Designed with their interests in mind, each lounge is laden with amenities and activities that will keep them engaged and entertained while encouraging them to mingle. With so much to do, Edge and Vibe is bound to become your teen's favourite on-ship destination! Youngsters will be absorbed for hours, giving adults the opportunity to experience enchantment of their own.
Private Islands
Disney Castaway Cay invites cruisers to enjoy tropical weather and world-class recreation on a Bahamian oasis with signature Disney hospitality. Visitors find an island completely outfitted for premium family leisure. There's something for everyone at Disney Castaway Cay; from the Castaway Family beach and Port Adventures for the whole family to dedicated water play areas for kids and The Hide Out, a teens-only activity area on the beach. Take advantage of Disney Character Greetings including Dance Party with Lilo and Stitch then when you're ready for some solo time, complimentary childcare for ages 3 through 12 is available at Scuttle's Cove, an expansive child's area supervised by Disney Youth Co-ordinators. Enjoy some down time by Indulging in an open-air massage with an ocean view, take a yoga class or unwind at the bar on the secluded, adults-only beach, Serenity Bay.
Spectacular Entertainment
Choose from Broadway-quality musicals to intimate lounge shows, family movies and talent nights, a thrilling on-deck pirate party and dazzling fireworks. Disney provides the highest levels of entertainment for the whole family!
Staterooms
Disney Cruise Line staterooms are among the first in the industry to be tailored especially for families, pioneering innovative comforts and modern features you won't find with any other cruise line. With accommodation ranging from cosy private lodgings to grand and richly appointed suites, from rooms with added space to rooms with sweeping views, there's a stateroom to fit your need for fun and comfort.
Ships' Registry: The Bahamas ©Disney