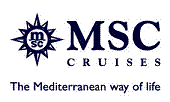 MSC Cruises is a leader in the Mediterranean cruise market, with cruises departing all year round, as well as offering a wide range of seasonal itineraries in Northern Europe, including Norwegian Fjords and Baltic Capitals, the Caribbean, South America, South and West Africa, Red Sea, The United Arab Emirates and Grand Voyages. MSC Cruises, a privately owned company with a longstanding history on the seas headed by captain Gianluigi Aponte, entered the cruise industry in 1988. MSC Cruises combines a deep heritage at sea with an enthusiastic, young and motivated management team to present a company philosophy of "Innovation = Tradition". MSC Cruises uniquely blends maritime traditions, culture and famous Mediterranean cuisine to deliver the ultimate cruise experience while displaying a real commitment to the finest hospitality afloat. In essence, MSC Cruises has made true Italian service the heart of its business and its key point of differentiation in the cruise industry

Cruise the Mediterranean
The Mediterranean gave birth to the Renaissance, the great cultural, intellectual, artistic, scientific and spiritual explosion whose energy lit all Europe and ended a thousand years of dark ages.
Whether you are dreaming of unwinding on sun-baked beaches or contemplating art in Museums, our Mediterranean itineraries will transport you to the hidden corners of history, culture and nature. Sprawling beaches, rustic villages, ancient ruins and sophisticated cities are just some of the infinite possibilities revealed.
MSC cruises offers a choice of excursions to satisfy both your Body & Mind. Optional half day and full day trips may include a walking tour through Capri, a cable car ride over Funchal, shopping in Barcelona, catamarans in Palma de Mallarco or a theatrical show in Odessa. Remote beaches and opulent palaces, modest fishing towns and glamorous international jetsetters are just some of the possibilities available to you during an MSC cruise.
Dining
From breakfast in the morning to the midnight buffet, there are several dining options available on board. Have brunch delivered to the privacy of your stateroom, enjoy a casual outdoor lunch by the pool from the grill or pizzeria and sample a variety of snacks during the afternoon and evening.

Dinner is always a special occasion, the Italian meal itself is an art form! Traditional Italian cuisine is home cooking, la cucina casalinga, amateur cooking, from amare, cooking with love. Like our warm service, the spirit of our cuisine is always hospitable.

During our renowned seven-course dinner menu, experience the zest of flavours and gaiety of colours from an authentic Mediterranean cucina garlic, olives, basil, red pepper and tomatoes in our traditional family recipes. Our well-trained dining staff serves regional specialties creatively prepared from scratch by our chefs as well as classic favourites.

Wine connoisseurs will savour the selections or cap dinner off with a cappuccino or espresso. Afterwards, dessert! From Italian treats of tiramisu and cannolis to your favourite cakes, pastries and tarts! If you are celebrating a special occasion like a birthday, retirement, honeymoon or anniversary, do it with classic operatic drama: a cake, some bubbly and an Italian serenade.
Leisure & Entertainment
What to do, what to do? Each day brings different activities. Sleep in or wake up early. Stroll around the deck or run on the jogging track. Get refreshed with a swim or relaxed in the whirlpool. Work out at the gym or try out one of the aerobic and step classes offered on board. Join in a game of cards, table tennis or shuffleboard or play a game of tennis or volleyball. The library is stocked with books for your perusal. Our cinema features recently released and classic movies. There is the Internet Cafe to email friends and family with updates throughout your journey, duty-free shopping boutiques, a video arcade and a card room or you can enjoy the simple pleasure of lounging on a deck chair under the warmth of the sun sipping tropical drinks.

After dinner, let MSC Cruises entertain you. The lounges have bands playing music for all tastes from pianists and string quartets to pop, rock and oldies. Many of our nightly shows have an accent of the Mediterranean, vivid Flamenco dancers from Spain or historical glances back to Old Europe.

Next, it's time for Vegas. We'll keep your glass filled as you test your luck with poker, roulette or blackjack in the casino. After a visit to the midnight buffet for a late-night snack, have one more dance or slip away to the privacy of your stateroom with the promise of another perfect day ahead.
Life on Board - Pampering
Pampering is all about choices. Have a healthy or hearty breakfast. Lounge around the deck leisurely or hit the courts competitively. Take advantage of our spa services to get completely revitalized, restored and refreshed.

For the body...
Maintain your regular fitness program. Our fitness coordinators will gladly show you around the jogging track, the swimming pools and guide you through the workout room's free weights, treadmills, stationary bikes and other strength and endurance equipment. Our fitness programs, led by certified instructors, have a daily schedule of classes such as aerobics, stretch and yoga as well as toning classes that zone in on specific spots including the mind.

Get the full beauty treatment with a haircut or manicure & pedicure from our salon. Dig a little deeper with muscle and mind-melting massages to relax from top to bottom. Purify and balance your skin with intensive complexion-cleansing facials that exfoliate, extract and hydrate. Sink into the jacuzzi or slip into the sauna or step into the steam room for a few minutes to help dissolve any tension that remains.

For the mind.
Stimulate your intellect with our enrichment-at-sea programs. You do not need to be on land to make discoveries and learn something new on a cruise. From Italian language lessons to guest lectures on a variety of topics, computer program or Internet lessons to cooking classes, we offer a host of educational and informational seminars and classes. We have guest lecturers on board every cruise, experts in various industries, respected historians, academics, artists, writers and musicians. The discussion might be on foreign films, art history, architecture, design, literature, health, current events or food and wine. Our educational programs are challenging, instructive and take place in any student's dream classroom setting.