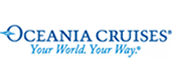 Your World, Your Way A spectacular menagerie of diverse and exotic destinations, your world is just waiting to be discovered, and there is no better way to explore it than on the elegant ships of Oceania Cruises. Our unique itineraries are specifically designed to showcase the most fascinating destinations across the globe. As Regatta, Insignia, Nautica, Sirena, Marina and Riviera are all intimate and luxurious, each ship can call on the world's most desirable ports, from historic cities to modern meccas to charming seaside villages nestled along sparkling coastlines. On a voyage with Oceania Cruises, each day offers the exciting opportunity to experience the history, culture, art and cuisine of a wondrous new destination.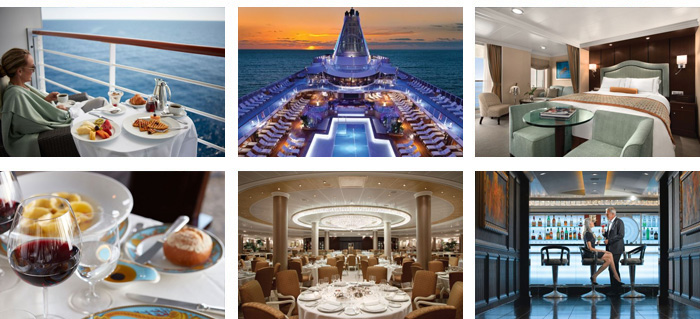 Each virtually identical
Oceania cruising may best be defined as "classic cruising." The itineraries are scheduled for a more leisurely pace. The ports of call focus on European, South American and transatlantic journeys. Onboard service echoes a distinctive Old World charm. But it is the ships of Oceania – each virtually identical – that most reflect this classic tone.
Entertainment & Activities
Though only just over 30,000 tons, Oceania ships offer big ship features. What their ships do not offer climbing walls, skating rinks, booming discos or shopping malls. Oceania passengers will not miss. But they will appreciate the spacious Library with its decorative fireplace, wing chairs, deep-cushioned sofas and top-of-the-ship views. The Library boasts of over 2000 books and periodicals.

Oceania guests will appreciate the quiet location of the spacious Card Room, a great place for a Bridge tournament, a game of Pinochle, a jigsaw puzzle or a board game. Next door is the Oceania@Sea the line's Internet cafe open and staffed 24 hours a day. There is also a Computer Learning Program available to guests. Group classes are scheduled on various topics and programs; private one-on-one instruction can be arranged, too.

There are two, very stylish, very nicely decorated Boutiques aboard the ship. One offers relatively inexpensive logo item gifts, casual wear, sundries and paperbacks. The other offers duty-free merchandise such as fine jewellery, perfumes, spirits and a selection of upscale Oceania logo apparel. The ship features a small Photo Gallery, as well.

The heated Pool is flanked by two Hot Tubs – a third hot tub is located within the Health Spa. Lacking aboard the Oceania ships is a wrap-around Promenade Deck, a guest-pleasing feature that would especially appeal to early morning strollers and joggers. The two Deck 5 outdoor promenades are, in fact, quite small, extending only half the ship's length on port and starboard sides. (Joggers have a small, but dedicated jogging track on Deck 10.) There are no self-service launderettes aboard Oceania ships – a feature found on smaller, competitive, luxury-level vessels. Laundry and dry-cleaning services are provided onboard.

The Lounge offers a single deck of tiered seating with chairs, sofas and banquettes. It's here where the "headline" entertainers appear. Besides offering excellent orchestral music – the ship employs a 12-piece orchestra – or comedic presentations, Oceanic recognizes that their guests also appreciate a mix of enriching guest lecturers. Authors, Broadway and Hollywood celebrities, politicians and historians are frequent invitees of The Lounge.

Horizons, the ship's alternative entertainment venue, lends itself to jazz jam sessions and cabaret performers. Late night disco dancing is available here, too, and there is even the occasional karaoke night! Classical string quartets perform throughout the ship, particularly during early evening before dinner. But entertainment is not confined to the indoors; Oceania cruises often offer a classical "concert under the stars."

The Casino is small but richly appointed. Despite its size it still manages to include a roulette wheel, blackjack tables, poker tables and several banks of slot machines. And it also includes one of the ship's "hot spots" – Martini's. This handsome, wooden bar serves up Martinis as you like them. Located midway between the Grand Dining Room and The Lounge, Martini's makes for a great meet-and-connect place.

The Grand Bar, at the entrance to the Grand Dining Room, is another of the ship's "hot spots," and for the very same reason Martini's is so popular: location, location, location! In keeping with the ship's overall decor, the atmosphere is cushion-y elegant, with crystal chandeliers, rich brocaded fabrics, and wood panelling throughout.

As with al Onboard the Oceania, you will also have plenty of opportunities to involve yourself in one or all of the following:
Wine & Cheese Tastings!
Self-improvement, motivational and wellness lectures
Computer Learning Programs
Dance lessons
Culinary demonstrations
Art auctions
Trivia contests




Spa & Fitness
The Oceania Spa is the bodies one-stop shopping centre. The "anchor" stores are the Fitness Room and the Styling Salon. The Fitness Room offers the usual mix of resistance devices: machines and free weights; aerobic equipment: treadmills, step and stationary bikes. It also offers a spectacular view out to sea. The Styling Salon takes thorough care of your hair and nails – and, like the Fitness Room, gives you front row seats on the ocean.

This mall's "boutique stores" would be the private, treatment rooms where guests can choose from over a dozen ways to treat their skin and muscles. There are steam and sauna rooms – of course, and a private sunning area, too. And facials and body wraps can work their wonders under the skills of the Oceania Spa professionals. The whirlpool is filled with vitamin-enriched seawater. Pilates and yoga classes are available as is one-on-one fitness training.

Thirteen times around and you have travelled a mile on the ship's Deck Ten Jogging Track. There is also a handy Golf Driving Cage available for golfing guests.