Imagine awaking to a new view each morning. Enjoying service that is unlike anything on land. Visiting more beautiful and vibrant places in one holiday than most people see in years. Dining in exclusive restaurants. Doing whatever you choose, whenever the notion takes you. On board the P&O's eight magnificent superliners you make the choices. This is your holiday after all. You can enjoy a spontaneous modern holiday. Or you can experience cruising with all the traditions. The quality of service and attention to detail let you experience a world that is both carefree and tailored to your needs and aspirations. You can explore the world with us at the same time as experiencing the very best of British. Tate Modern and Tate Britain present Tate Talks and creative workshops on selected holidays. There's the opportunity to dine in restaurants created by Atul Kochhar and Marco Pierre White.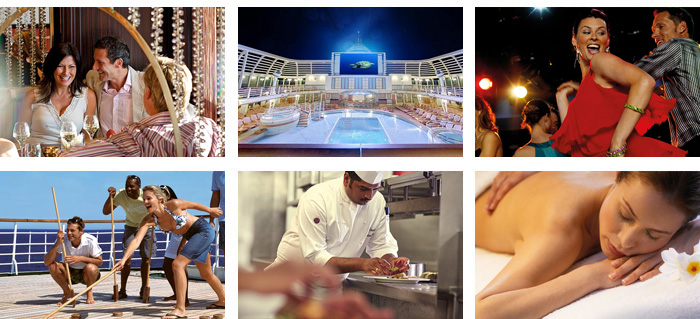 Meet Our Newest Addition Iona
We're delighted to announce that our fleet is extending with our newest ship Iona. The ship will set sail in the UK in May 2020 where it will hold capacity for 5,200 guests, making it the largest cruise ship ever built for the British market. Iona is designed to bring the outside in, through innovative design and unique spaces, she connects you with the sea, sky and shoreline. Explore Iona through our virtual tour below.
A Choice of Stunning Ships
Whether you're looking for a large ship or something more modest in size, either family-friendly or exclusively for adults, at least one of the P&O ships has your name on it. And whichever one you choose, once on board you'll find the decks are packed with choice.
Attentive and Discreet Style of Service
The staff aboard our ships are known for their attentive and discreet style of service. British Officers and a long-serving crew assure a friendly and familiar environment. And from cabin stewards to reception staff and waiting staff, you will find P&O Cruises staff are always willing to go that extra mile. Attention to detail and efficiency are of the utmost importance to P&O Cruises and you will find the staff have been trained to provide the very best standards of service. Both ship and shore-side staff adhere to the 'CRUISE' ethics of service. This code of conduct emphasises the importance of P&O Cruises staff being friendly and welcoming and willing to go that extra mile. After all, P&O Cruises realise that it can be the little details that make a big difference to your holiday experience.
Delicious Dining
Meet P&O's Food Heroes – Marco Pierre White, Eric Lanlard and Olly Smith. From relaxed alfresco dining to elegant five course menus, each P&O ship offers a diverse choice of dining options, from informal buffets and snack bars to black tie Gala Nights with six-course menus.
Special Occasions
There is always something to celebrate when you are travelling with P&O Cruises. Whether it's a birthday or you simply want to let that special someone know how much you care, or to add an extra special touch to a great holiday, you will find our occasion and gift packages offer all you need. This includes luxury items such as hand-finished chocolates, spa treatments and champagne, P&O Cruises can offer you the perfect package. Celebrate your honeymoon or anniversary in pure style with our free Honeymoon and Wedding Anniversary Collections. Including everything from fresh flowers in your cabin to champagne and a formal portrait photograph, there's no better way to remember your special day where you can even rekindle that spark and renew your vows on board.