Royal Caribbean's cruise ships are the most innovative and exciting in the travel industry. From rock-climbing walls on every ship, to elegant dining rooms and relaxing spas, your experience onboard is nothing short of incredible. And the service you get will be just as amazing.
Your happiness is the biggest priority, and Royal Caribbean will do everything to make sure you get the most out of your cruise vacation. Sailing with your family, or gathering a few friends together for a reunion? Planning to say, "I do"? Or "I'd do it all over again"? Royal Caribbean have programs and packages that will make any occasion special.
Even before you reach your destination, you're going to be amazed at what you see - your cruise ship. Royal Caribbean's cruise ships are the most innovative and exciting in the travel industry.
It's like every day's your birthday when you sail with Royal Caribbean. Royal Caribbean cater to your every whim so you're completely free to adventure on. How will Royal Caribbean make sure every second of your cruise vacation is everything you hoped for? With there Gold Anchor Service. You'll have one of the friendliest crews on water ready to show you the time of your life.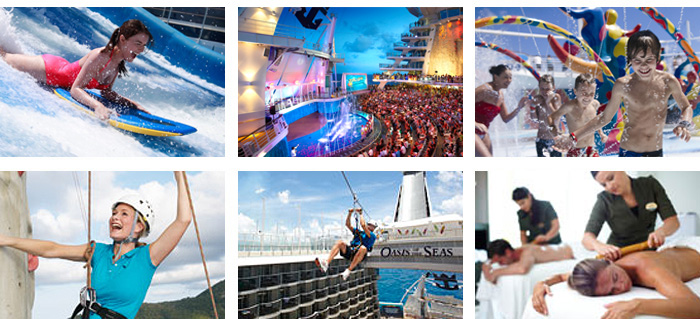 Accommodation
After a day of exploring the world, its exotic cuisine and interesting cultures, there's nothing better than returning to the comfort of your private stateroom. They have designed every one of there staterooms to be a comfortable, relaxing place for you to rest after your adventures. The staterooms vary by ship, but every room offers a television, telephone, en-suite facilities, shower, vanity area and even a hairdryer.

Suites
Suites offer more room, comfort and luxury. Most come with a private balcony and all include standard features. Some suites even include complimentary concierge service, which includes access to a private lounge as well as personalised service to help with making reservations or other arrangements. Suites are a great way to travel in style and give your family more space, while keeping everyone together. Royal Family Suite can accommodate up to eight people.

Balcony Stateroom
Imagine opening your balcony door to see a new and breathtaking part of the world each morning. A stateroom with a balcony is a great way to make your cruise adventure even more memorable and truly take in your destination.

Ocean View Stateroom
Spend the day exploring the world, then come back to your room and don't miss a thing. Take in the spectacular sights and enjoy the beautiful ocean view from the window in your stateroom. All Ocean View Staterooms have two twin beds, which can convert into a queen size double bed, vanity area and en-suite facilities.

Interior Stateroom
Relax in all the comfort of the interior staterooms. These well appointed rooms are excellent value. For an interior room with a view, there are our Promenade staterooms, available on all Voyager Family ships. They offer all the features of a standard stateroom, plus a bowed window overlooking the Royal Promenade.

Activities
Whether you want to scale the heights of the rock climbing wall, enjoy a round on the miniature golf course, slip some blades on and take a spin on the world's first ever ice rink at sea, or simply relax and soak up the sun - with Royal Caribbean the time is yours to do as you please.

Perhaps you'll indulge in a little shopping along the fabulous Royal Promenade. Or on the other hand, if your idea of physical exertion is simply turning the next page of your favourite book, our Solarium is the perfect place to relax and unwind.

Choose to enjoy a drink by the pool, slip into a relaxing whirlpool, take a leisurely stroll around the deck or discover the rejuvenating pleasures of a relaxing massage, a soothing spa or a seaweed wrap in the largest sea-based health and fitness centre - the magnificent ShipShape® Centre.

With so much choice, you'll find deciding what to do can be an activity in itself.

For kids
For kids, there can be no greater adventure than sailing the high seas. And to make it even more special, they created an Adventure Ocean® Youth Programme, specifically designed to entertain children from 6 months to 17 years with an exciting range of fun and educational supervised activities. There's even the added excitement of Adventure Beach - an area especially for families to enjoy together, with a swimming pool and water slide, it's loads of fun!

Adventure Ocean®
Adventure Ocean® is specially designed to blend educational activities with just plain fun. Every cruise is different. But one thing never changes: your child will get to learn about local customs, do cool science experiments, and make great new friends.

Family holidays will never be the same again. With Adventure Ocean®, you can do activities as a family, plus parents get some free time to themselves - and children get some time to have their kind of fun. That includes special children-only meals, a TV station with channels just for children, lots of great play areas and even a nightclub for teens. Royal Caribbean cruises are designed to bring families closer together and for everyone to have the time of their life!

To participate in group activities, children must be potty-trained. No pull-ups or nappies, please.

Who is it for?
Adventure Ocean® is a free programme, open to all guests aged 6 months - 17 years. Children are cared for by age: 6 - 18 months, 18 - 36 months, 3 to 5; 6 to 8; 9 to 11; 12 to 14; and 15 to 17 years. If your child wants to join a different age group, they must participate in one day-activity session and one night-activity session with their proper age group first. The Adventure Ocean® Manager and youth staff will then make the decision based on their maturity level.

The People Behind the Programme
Each Adventure Ocean® staff member holds a college degree in education, recreation or a related field, from an accredited college or university, or has qualified equivalent experience in working with children aged 6 months - 17 years.

All are fully trained and certified in children's first aid and have an extensive background in working with groups of children. So relax as your children are in safe hands.

Eat, Drink and Be Merry
For our youngest guests, they offer a children's menu featuring all their favourites: pizza, hamburgers, hot dogs, peanut butter, and macaroni cheese. Kids have their own drinks programmes too. The Unlimited Soda Package lets them purchase a fountain soda/juice package so they can enjoy as many fountain sodas and juices as they want.

On selected nights, the youth staff host dinners in our specialty restaurants. It's a great opportunity for children to eat with other kids and for parents to enjoy a meal alone.

Adventure Ocean® Coupons
All children who participate in Adventure Ocean® will have the opportunity to earn up to three Adventure Ocean® coupons a day by attending the activities. At the end of the cruise, they can trade them in for really cool prizes.

Adventure Family
The idea of Adventure Family is for children and their parents to get together and participate in fun onboard activities like ice-skating and karaoke, as well as beach games that are played shore side. It's a great way for the entire family to have fun.

Time for Mum and Dad
As a holiday for the whole family, Royal Caribbean also provides quiet time for mum and dad. That can be during the day, while the children are at their own Adventure Ocean® Programme, or at night, while the children are with babysitters.

For older children, they offer group sitting in the Late Night Party Zone. The service is offered from 10 p.m. to 1 a.m. in our youth facilities and children must be at least three years of age. The rate is $5 USD an hour per child.

For younger children, they also offer individual sitting in your stateroom from 8 a.m until 2 a.m. Children must be at least one year old. Rates are generally between $8 and $10 USD an hour, depending on the number of children in your family. Payments must be made in cash. They require 24 hours advance notice and the guests can confirm the service with Guest Relations upon boarding.
On Board Experience
From sunrise to sunset and around every corner, there's something exciting for you to do on a Royal Caribbean holiday. On board, try the rock-climbing wall, or how about a workout or a relaxing massage?

Better yet, try your luck in the casino, attend an art auction, or dance the night away in a nightclub. There are even supervised activities for kids. And on land, they offer shore excursions for everything from glacier trekking in Alaska to wine tasting in Tuscany. Best of all, every experience is delivered with there unique GOLD Anchor service.

From the tinkling steel-pan sounds of the calypso band that entertain you around the pool, to the lights, costumes and make-up, and the show-stopping numbers in our fabulous West-End style productions, there's a fantastic variety of entertainment for you to enjoy throughout the day and late into the night.

Entertainment
Take in a show, catch up on the latest movies, chill out with some cool jazz or thrill to one of the incredible ice spectaculars. Whatever you choose to enjoy you'll discover an amazing entertainment experience on board.

There's also a host of superb bars and venues to suit your every mood and occasion - from celebrating with a glass of bubbly in the Champagne Bar to sipping a cocktail in the Viking Crown Lounge.

Perhaps you prefer to chance your luck in the Casino Royale. Try your hand at Blackjack or Stud Poker, have a roll of the dice on the craps table or place your chips on the roulette wheel. And after the thrill of the casino, enjoy the excitement of the nightclub to dance away another magical night.

Dining
On a Royal Caribbean cruise you'll discover an incredible choice of the finest cuisine and dining options created to satisfy even the most adventurous of tastes. With over 800 waiters available to pander to your every culinary need, you can always enjoy award-winning cuisine and world-class quality of food and service.

ShipShape® healthy menus offer low fat, low cholesterol options, vegetarian menu choices, ethnic and regional specialities, as well as the more traditional cuisine and an extensive selection of wines. Refreshments are available day and night - choose from formal dining in an elegant restaurant, to open-seating dinners and alfresco dining, to fast food, afternoon teas and ice cream in the Windjammer Cafe.

Room service is available and even private dining in our speciality restaurants can be pre-booked with a simple reservation. Enjoy the perfect steak in the Chops Grille or the atmospheric surroundings of Portofino, our intimate Italian restaurant. Please note: a cover charge applies to dining in speciality restaurants.